Welcome to Slippery Rock Cigars
Welcome and thank you for visiting Slippery Rock Cigars. We have a simple clear philosophy: honest service and competitive pricing.
FREE SHIPPING on all orders over $99 *
---
The Banker by H. Upmann Cigars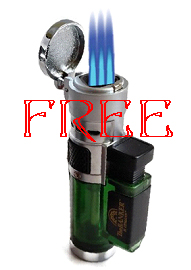 Celebrate the Richest moments of life with "The Banker" by H. Upmann!

In 1844, German bankers Carl and Herman Upmann traveled to Cuba to create an exceptionally unique cigar and locked it away only to be gifted to their most special clients. After nearly 170 years, we have
re-created that original blend.

This dark brown, rich, and robust cigar boasts an earthy and toasty smoking profile. Using an aged Ecuadorian Habano wrapper, a Nicaraguan binder from the Jalapa region and aged Nicaraguan and Dominican fillers this great new cigar is RICH and ROBUST with notes of coffee and spicy.

Available in space-saving and affordable 15 cigar count boxes the NEW rich, robust and slightly spicy

Available sizes: Annuity 5 x 52, Arbitrage 7 x 56,
Basic Point (Belicoso) 6 1/8 x 54, Currency 5 1/2 x 48
FREE
- H. UPMANN TRIPLE FLAME TORCH LIGHTER with box purchase
Slippery Rock Cigars / Butler Cigars & Smoking Lounge
Slippery Rock Cigars, 278 Cameron Drive, Slippery Rock, PA 16057 - 724-234-2439 or 877- 332-2612
Butler Cigars & Smoking Lounge, 363 Pittsburgh Road, Butler PA 16002 - 724-256-4422
Slippery Rock Cigars doesn't sell tobacco products to anyone under the age of 21and doesn't sell cigarettes or smokeless tobacco of any kind. If you are under the age of 21 exit this site immediately!
Upon placing an order, purchaser agrees to be responsible for complying with all local, state and federal laws and regulations, including but not limited to their purchase, transportation, delivery, any required fees and compliance with all applicable laws.
SURGEON GENERAL WARNING: Tobacco Use Increases The Risk Of Infertility, Stillbirth And Low Birth Weight.
Copyright Slippery Rock Cigars LLC 2004 – 2017