Welcome to Slippery Rock Cigars
Welcome and thank you for visiting Slippery Rock Cigars. We have a simple clear philosophy: honest service and competitive pricing.
FREE SHIPPING on all orders over $99 *
---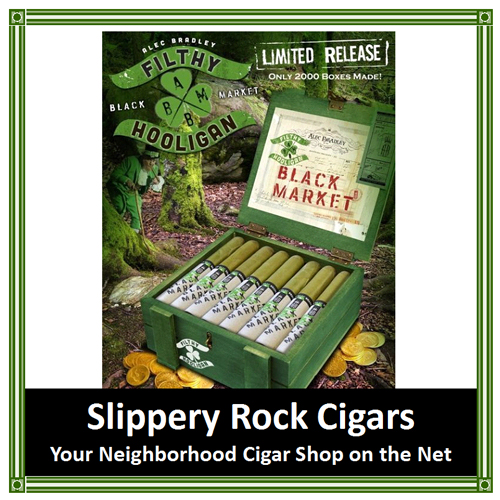 Alec Bradley Filthy Hooligan Cigars
Black Market Filthy Hooligan with a new barber pole wrapper and a more full-flavored blend. Released annually on St. Patrick's Day since it was introduced in 2013. Using the traditional candela wrapper and swirling it around a three nation filler & binder core with a dark Nicaraguan Jalapa wrapper, the result is a stunning new taste experience at every level. This is no ordinary candela.

Made in one size only, a 6" x 50 Toro, the Black Market Filthy Hooligan 2017 uses a blend of Honduran and Panamanian long-fillers with a Sumatra binder, entwined in a mild, fern-green Candela wrapper, contrasted by a richer tasting, chocolatey-dark Nicaraguan Jalapa wrapper. The medium-bodied, full-flavored smoke explodes on the palate with sweet tobacco flavors countered by the brawnier core leaves, like a good Irish Stout.
Slippery Rock Cigars / Butler Cigars & Smoking Lounge
Slippery Rock Cigars, 278 Cameron Drive, Slippery Rock, PA 16057 - 724-234-2439 or 877- 332-2612
Butler Cigars & Smoking Lounge, 363 Pittsburgh Road, Butler PA 16002 - 724-256-4422
Slippery Rock Cigars doesn't sell tobacco products to anyone under the age of 21and doesn't sell cigarettes or smokeless tobacco of any kind. If you are under the age of 21 exit this site immediately!
Upon placing an order, purchaser agrees to be responsible for complying with all local, state and federal laws and regulations, including but not limited to their purchase, transportation, delivery, any required fees and compliance with all applicable laws.
SURGEON GENERAL WARNING: Tobacco Use Increases The Risk Of Infertility, Stillbirth And Low Birth Weight.
Copyright Slippery Rock Cigars LLC 2004 – 2017