Discount cigars online
Onyx Reserve Cigars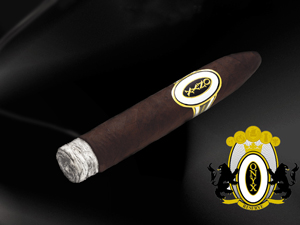 These rich, medium- to full-bodied handmade maduro cigars have a lovely aroma and are beautifully square pressed and packaged in semi-boite nature boxes.
Featuring a coal-black Connecticut Broadleaf wrapper around a Nicaraguan binder leaf and Dominican, Nicaraguan, and Peruvian filler, Onyx cigars have been highly rated by virtually every publication in the industry.
Available Sizes: No. 4 (Square Pressed): 5 x 44, Churchill: 7 x 50, Lonsdale: 6 5/8 x 44, Mini Belicoso (Square Pressed): 5 x 52, Robusto (Square Pressed): 5 x 50, No. 2 Belicoso (Square Pressed): 6 1/8 x 52, Toro (Square Pressed): 6 x 50
Omar Ortez Original Cigars
- In both 60 count and 20 count boxes
These solid handmade cigars are true "puros". All the components (wrapper, binder, and filler) are of Nicaraguan origin – and, in fact, are all grown on the same farm within a short drive from the factory itself.
Spicy, bold, and loaded with dark ligero fillers, these quality smokes will wake up your palate in a hurry and entice your senses with their rich satisfying aroma.
Available Sizes:
Belicoso: 6 1/8 x 52 Toro: 6 x 54 Robusto: 5 x 54
The maduro version of the Omar Ortez brand is handmade in Honduras with an aged robust blend of Nicaraguan and Panamanian long filler tobaccos, a peppery Mexican binder and a dark, rich Nicaraguan maduro wrapper.
Packaged in unique wooden crates, these rustic looking powerhouses are loaded with enough flavor and spice to satisfy the full-bodied cigar lover.
Available Sizes: Short Torpedo: 5 x 48 Robusto Grande: 5 x 54 Torpedo: 6 x 52 Toro: 6 x 54
Slippery Rock Cigars doesn't sell tobacco products to anyone under the age of 21and doesn't sell cigarettes or smokeless tobacco of any kind. If you are under the age of 21 exit this site immediately!
Upon placing an order, purchaser agrees to be responsible for complying with all local, state and federal laws and regulations, including but not limited to their purchase, transportation, delivery, any required fees and compliance with all applicable laws.
SURGEON GENERAL WARNING: Tobacco Use Increases The Risk Of Infertility, Stillbirth And Low Birth Weight.
Copyright Slippery Rock Cigars LLC 2004 – 2014