The authentic classic smoke. From vintage Cuban seed "liberated" from the island. 100% genuine Corojo, the thoroughbred leaf. Slowly aged, like a fine rum. Robust, yet smooth. A most legendary smoke.
Corojo has been revered amongst experienced cigar aficionados for more than a decade. A go to cigar for the most seasoned of palettes. Those in search of something truly unique. The one cigar truest to that of vintage Cuban cigars in their heyday. In the 1990's, this longtime treasure of Cuba's tobacco growing region was re-engineered and turned into a cross-bread. A forced mutation of its former self. A hybrid, resistant to nature and packed with nostalgia that is only deserving of true, authentic Corojo.
Camacho took a different approach. . .
They've taken great and made it better. Taken classic and made it ours. Dialed up the richness and amped its intensity. Built with a high-grade, fifth priming wrapper leaf and grown with a seed that's been perfected for over 40 years.
In the 1960's, they received a handful of smuggled Authentic Corojo seeds and began growing them in the Jamastran Valley of Honduras. A rugged area of the country with a similar microclimate to that of Cuba's famed, Vuelta Abajo region. Over the course of four decades, we learned and perfected growing the original Corojo strain outside of Cuba. Making us the last in the world preserving and in possession of this critical element that made Cuban cigars and Cuban tobacco famous.
The integrity and nostalgia of Cuba's famed Corojo tobacco lives on. Camacho makes it available without the need of a time machine.
Alec Bradley Prensado Cigars
Prensado features the Trojes Honduran wrapper leaf and was aged for maximum smoothness. The result of this aging is a spicy, complex leaf with abundant sweetness and many distinctive nuances.
The filler in these stogies is a blend of tobaccos from Honduras and Nicaragua, which add additional pepper to the flavor profile while providing rich, sweet coffee notes. Box-pressed construction allows for a flawless, even burn and generous draw.
The Alec Bradley Prensado is as gorgeous a cigar as you'll ever see, with a picture-perfect head and a stunning wrapper. But it is the flavor that makes it a classic smoke. The Honduran and Nicaraguan tobaccos come together to create leather, chocolate and spice notes, and a long, lush finish.
La Aurora Preferido 1903 Edition Cigars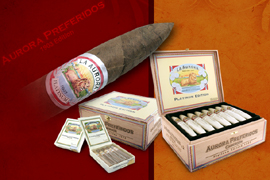 A true masterpiece, these cigars are produced only by expert torcedors with more than 15 years of experience. Each of them produces at most 125 cigars per day. The La Aurora Preferido is a perfecto offering a very balanced smoke.
Available wrappers: Cameroon, Connecticut, Corojo, Ecuador Sun Grown, Maduro and Connecticut Broadleaf (Diamond)