The Banker by H. Upmann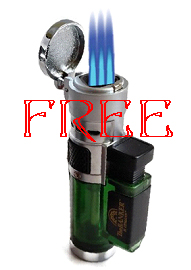 The Banker by H. Upmann Cigars
Celebrate the Richest moments of life with "The Banker" by H. Upmann!
In 1844, German bankers Carl and Herman Upmann traveled to Cuba to create an exceptionally unique cigar and locked it away only to be gifted to their most special clients. After nearly 170 years, we have
re-created that original blend.
This dark brown, rich, and robust cigar boasts an earthy and toasty smoking profile. Using an aged Ecuadorian Habano wrapper, a Nicaraguan binder from the Jalapa region and aged Nicaraguan and Dominican fillers this great new cigar is RICH and ROBUST with notes of coffee and spicy.
Available in space-saving and affordable 15 cigar count boxes the NEW rich, robust and slightly spicy
Annuity 5 x 52,
Arbitrage 7 x 56, Basic Point (Belicoso) 6 1/8 x 54,
Currency 5 1/2 x 48
FREE
-
H. UPMANN TRIPLE FLAME TORCH LIGHTER with box purchase
A highly useful stainless steel lighter with a hinge cap that spring open upon the click of your finger. Unit is not shipped with butane in it.